"The wand chooses the wizard, remember..."
-- Garrick Ollivander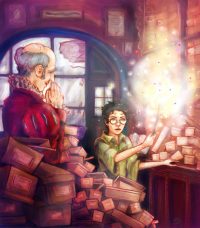 Wandlore is a mysterious and ancient branch of magic that involves the study of wand ownership and wand power.
"Every Ollivander wand has a core of a powerful magical substance, Mr. Potter. We use unicorn hairs, phoenix tail feathers and the heartstrings of dragons. And of course, you will never get such good results with another wizard's wand" (PS5).
"'The wand chooses the wizard,' said Ollivander. 'That much has always been clear to those who have studied wandlore" (DH24).
"The best results, however, must always come where there is the strongest affinity between wizard and wand. These connections are complex. An. initial attraction, and then a mutual quest for experience, the wand learning from the wizard, the wizard from the wand" (DH24).
If a muggle waves a wand it rebels and sends the muggle flying; the wand cores then "shrivel and die." (Pm)
Wand information from Pottermore:
Wand cores
Garrick Ollivander uses only three types of material for wand cores; he refers to these as the Supreme Cores in his notes about wands. They are unicorn hair, dragon heartstring and phoenix feather. Ollivander, however, does remind those who would delve into the mystical magic of wandlore that "each wand is the composite of its wood, its core and the experience and nature of its owner; that tendencies of each may counterbalance or outweigh the other."
Unicorn
"Unicorn hair generally produces the most consistent magic, and is least subject to fluctuations and blockages ..."
Dragon
"As a rule, dragon heartstrings produce wands with the most power, and which are capable of the most flamboyant spells. Dragon wands tend to learn more quickly than other types ..."
Phoenix
"This is the rarest core type. Phoenix feathers are capable of the greatest range of magic, though they may take longer than either unicorn or dragon cores to reveal this. They show the most initiative, sometimes acting of their own accord, a quality that many witches and wizards dislike ..."
Wand length and flexibility
Ollivander states:
"Most wands will be in the range of between nine and fourteen inches. While I have sold extremely short wands (eight inches and under) and very long wands (over fifteen inches), these are exceptionally rare. In the latter case, a physical peculiarity demanded the excessive wand length. However, abnormally short wands usually select those in whose character something is lacking, rather than because they are physically undersized (many small witches and wizards are chosen by longer wands). Wand flexibility or rigidity denotes the degree of adaptability and willingness to change possessed by the wand-and-owner pair ..."
Wand woods
Ollivander has written extensive notes about the various woods he uses for wands. Those woods are:
Acacia
Alder
Apple
Ash
Aspen
Beech
Blackthorn
Black Walnut
Cedar
Cherry
Chestnut
Cypress
Dogwood
Ebony
Elder
Elm
English Oak
Fir
Hawthorn
Hazel
Holly
Hornbeam
Larch
Laurel
Maple
Pear
Pine
Poplar
Red Oak
Redwood
Rowan
Silver lime
Spruce
Sycamore
Vine
Walnut
Willow
Yew
Many interesting details of these woods in the Harry Potter universe are available on Pottermore.
Commentary
Notes
Rowling's comments on wand lore and allegiences:
"Essentially, I see wands as being quasi-sentient, you know? ... They're not exactly animate but they're close to it. As close to it as you can get in an object because they carry so much magic. So that's really the key point about a wand. Now, the reactions will vary from wand to wand. The Elder Wand is simply the most dispassionate and ruthless of wands in that it will only take into consideration strength. So one would expect a certain amount of loyalty from one's wand. So even if you were disarmed while carrying it, even if you lost a fight while carrying it, it has developed an affinity with you that it will not give up easily. If, however, a wand is won, properly won in an adult duel, then a wand may switch allegiance, and it will certainly work better even if it hasn't fully switched allegiance for the person who won it. So that of course is what happens when Harry takes Draco's wand from him, and that's what happens when ... Ron (takes) the blackthorn wand from the snatcher. So that would be sort of rough and ready, common, or garden, a wand favoring the person who had the skill to take it. It would favor them. However, the Elder Wand knows no loyalty except to strength. So it's completely unsentimental. It will only go where the power is. So if you win, then you've won the wand. So you don't need to kill with it. But, as is pointed out in the books, not least by Dumbledore because it is a wand of such immense power, almost inevitably, it attracts wizards who are prepared to kill and who will kill. And also it attracts wizards like Voldemort who confuse being prepared to murder with strength.

"I have been asked a lot of times, well what about Duelling Club and so on? Well I think it's clear there that in practice, where there's no real weight attached to the transference of a wand, where it's almost all for fun or purely for competition, there's no enormous significance attached in either wizard's mind to a wand flying out of someone's hand. But there are situations in which the emotional state of wizards where a lot hangs on a duel, that's something different. That's about real power and that's about transference that will have far-reaching effects in some cases. So I think the wand would behave differently then." (TLC2)
Pensieve (Comments)
Tags: broken wands charms curses powerful wand cores wand wood wand-making wandcraft wandlore wandmakers wands