"A display from the team mascots will precede the match."
"Oh that's always worth watching. National teams bring creatures from their native land, you know, to put on a bit of a show."
-- Hermione Granger and Mr Weasley (GF8)
"A magnificent exhibition of the diversity of the magizoological world"
-- description of the mascot-themed opening ceremony of the 2014 Quidditch World Cup - before the bloodbath (Pm)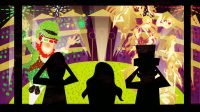 Quidditch team mascots are a traditional part of the game of Quidditch.
At Quidditch World Cup tournaments, team mascots put on a display prior to the final match (GF8, Pm). An attempt to have a display of mascots from all the participants at the 2014 Quidditch World Cup resulted in a disastrous bloodbath (Pm).
The competition between teams to bring exciting and/or dangerous mascots is intense. In 1995, the ICWQC put forward a motion to restrict the size and address safety concerns about mascots. However, this was defeated by a huge majority. No Quidditch supporters worldwide wanted this traditional part of the game to be altered (Pm).
Known team mascots:
The Hogwarts School team mascots are the badger (Hufflepuff), the lion (Gryffindor), the eagle (Ravenclaw) and the snake (Slytherin).
Commentary
Tags: animals dangerous exciting pride Quidditch history Quidditch traditions showy teams