"While they have twice reached the final in the last twenty years, Bulgaria entered this tournament as outsiders, their team having narrowly scraped into the final sixteen."
-- Ludo Bagman in the Daily Prophet, 2 July 2014 (Pm)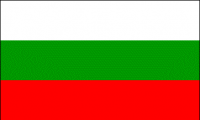 The national teams from the European country of Bulgaria.
Quidditch
robes: scarlet/red (GF8, Pm)
mascot: Veela (GF8, Pm)
Bulgaria's Quidditch team have played in the Quidditch World Cup final three times (Pm).
Notes and interesting facts:
In a 2014 poll, the 1994 Bulgarian Beaters Volkov and Vulchanov were voted all-time best beater duo - ahead of the popular 2014 Japanese team Beaters Shingo and Hongo (Pm).
Viktor Krum, who at 38 during the 2014 Quidditch World Cup was considered to be a bit old to still be playing professionally as a Seeker, stated that he wanted to "win the World Cup before I die" (Pm).
Commentary
Notes
Although Bulgaria has participated in three Quidditch World Cups, there are no Quidditch or other wizarding sports teams listed on its Wikipedia entry (Wikipedia).
Pensieve (Comments)
Tags: dangerous defeats determination endurance famous international Krum Remembrall red scarlet sports sportsmanship teams winners