"We've been underdogs all through this tournament. We have nothing to lose and everything to win. We'll leave everything out there."
-- Boris Vulchanov, interviewed before the Bulgaria v Japan semi-final 2014 (Pm)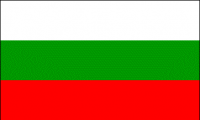 Quidditch player, Beater for the Bulgaria National Team (2014).
He and the other Beater on the 2014 Bulgarian National Team, Dimitar Draganov, are considered to be a "competent" duo (Pm).
Other canon notes and references
Since Bulgaria's Seeker, Viktor Krum (born 1976), was the oldest player at the tournament (Pm), Vulchanov must have been born after 1976.
His father, Vulchanov, was a Beater on the Bulgarian National Team that lost to Ireland in the 1994 Quidditch World Cup (GF8, Pm).
Boris Vulchanov
Profession
Quidditch player (Beater)
Commentary
Tags: bravery competitions/competitors international match protection red scarlet sports team teammates teams tournaments victories win