BULGARIA VERSUS JAPAN
-- headline, Sunday Prophet, 6 July 2014 (QWC)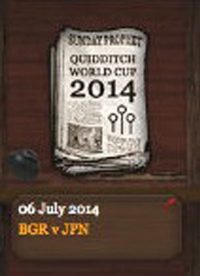 The ten-hour semi-final between the Bulgarian National Team and the Japanese National Team was a hugely enjoyable high-scoring and thrilling match. The first three-quarters of the game were dominated by Japan, who at one point were 250 points ahead, but the Bulgarian team did not give up. After a brilliant diversionary move, their Seeker Viktor Krum caught the Snitch to make the final score Bulgaria 610 points to Japan's 460 (QWC).
Timeline Notes
Article written by Ginny Weasley in the Sports section of the Sunday Prophet, 6 July 2014 (QWC)
Quidditch World Cup Semi-final Match (Bulgaria v Japan)
Certainty
Stated in canon
Type of Event
Wizarding world
Commentary
From the Web
Writing by J K Rowling on WizardingWorld.com (Pottermore): The Daily Prophet
Screenshots of the Daily Prophet coverage of the 2014 Quidditch World Cup (originally from Pottermore), written by J.K. Rowling, and saved on Imgur:
Harry Potter Wiki: 2014 Quidditch World Cup
Pensieve (Comments)
Tags: competitions/competitors endurance goals international match Quidditch history score sportsmanship teams tournament