"Hongo and Shingo replica Quidditch robes are now the fastest-selling pieces of merchandise at the tournament."
-- Ludo Bagman's commentary in the Daily Prophet, 2 July 2014 (Pm)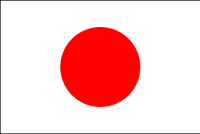 Shintaro Shingo was a Beater on the Japanese National Team at the Quidditch World Cup tournament in 2014 (Pm).
Chaser Shingo and his teammate Masaki Hongo were star Chasers at the 2014 tournament, second only in popularity to the legendary Bulgarians of 1994, Volkov and Vulchanov (Pm).
Japan used their experience to win the initial match against Poland (350 points to 140). The quarter-final was against the Nigerian National Team, which again featured "precision and creativity of shots hit" from both sets of Chasers, and was won by Japan by 270 points to 100 (following the failure of the Nigerian Seeker's broom) (Pm).
Although they were the underdogs, Bulgaria beat favourites Japan at semi-finals stage, setting up a match against the United States to secure third place. In this fixture, Shingo and Hongo were "simply unstoppable" and the final score was Japan 330 – USA 120 (Pm).
Skills
Precise, artistic and creative hitting of a Bludger, ability to dominate a Quidditch game with defensive moves
Other canon notes and references
Since Viktor Krum, born 1976, was the oldest player at the tournament (Pm), Shingo must have been born after 1976.
As he comes from Japan, Shingo will have attended the Mahoutokoro Wizarding School, as all the members of the Japanese national side have done so (Pm).
Shintaro Shingo
Profession
Quidditch player (Beater)
Commentary
Etymology
Shintaro (Shintarō, 伸太郎, しんたろう) is usually a Japanese boy's name, with tarō in particular used in or as the name for first born sons (Wikipedia).
Shingo may be a reference to two Japanese places: Shingo (Aomori) and  Shingo (Okayama), the latter of which has been merged into the town of Niimi.
From the Web
Writing by J.K. Rowling on Pottermore:
Pottermore enhanced reading experience: Quidditch World Cup
Screenshots of the original Daily Prophet coverage of the 2014 Quidditch World Cup on Pottermore: Imgur archive
Harry Potter Wikia: Shintaro Shingo
Pensieve (Comments)
Tags: athletes competitions/competitors exciting international match popular skills sports talented teammates teams thrills tournaments