"The turning point of the game was undoubtedly the staggeringly powerful shot hit by Hongo...."
-- match report Japan v Nigeria, Daily Prophet, 10 June 2014 (Pm)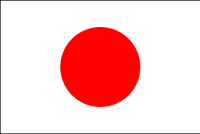 Masaki Hongo was a Beater on the Japanese National Team at the Quidditch World Cup tournament in 2014.
Hongo and teammate Shintaro Shingo were an extremely talented duo of Chasers who made their mark at the 2014 tournament (Pm).
Japan won their first match against a relatively inexperienced Polish side. Their quarter-final was against the Nigerian National Team, which was won after Hongo's precision hit Bludger shattered the tail of Nigerian Seeker Samuel Equiano's broom (something it shouldn't have been able to do) (Pm).
Bulgaria then beat Japan in "a display of utterly thrilling Quidditch" during the semi-finals, although Shingo and Hongo had dominated much of the game. The Japanese had to settle for a match against the United States to determine third place overall, where they won with a final score of 330 points to 120 (Pm).
Skills
Precision aim, artistic and creative flair hitting a Bludger and the ability to dominate a Quidditch game by defensive prowess
Other canon notes and references
Since Viktor Krum, born 1976, was the oldest player at the tournament (Pm), Hongo must have been born after 1976.
As he or she comes from Japan, Hongo will have attended the Mahoutokoro Wizarding School, as all the members of the Japanese national side are said to have done so (Pm).
Masaki Hongo
Species / Race
Wizard or Witch
Profession
Quidditch player (Beater)
Commentary
Etymology
Masaki is a common given name in Japan and can be either male or female (Wikipedia).
Hongo probably comes from Hongō (本郷), a district of Tokyo (Wikipedia).
From the Web
Writing by J.K. Rowling on Pottermore:
Pottermore enhanced reading experience: Quidditch World Cup
Screenshots of the original Daily Prophet coverage of the 2014 Quidditch World Cup on Pottermore: Imgur archive
Harry Potter Wiki: Masaki Hongo
Pensieve (Comments)
Tags: athletes competitions/competitors exciting hits international match popular skills sports talented teammates teams tournaments