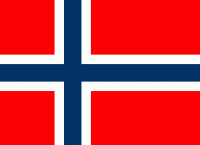 The Norwegian National Teams come from the Northern European country of Norway.
Quidditch
The game of Quidditch was taken up at a very early stage in Norway and a poem extolling the highs (and lows) of Quidditch was written by Ingolfr the Iambic in the early 1400s (QA8).
Norway participated in the 2014 Quidditch World Cup in the Patagonian desert of Argentina (Pm):
Along with Nigeria, they were joint favourites before the start of the tournament.
Norway's team mascots in previous tournaments had been a troop of performing trolls.  However, in 2014, the mascots were Selma, a type of water snake that eats both fish and human flesh. During the opening ceremony the Selma disastrously clashed with the Fijian mascot, a Dukuwaqa. A bloodbath ensued.
Known members of the Norwegian contingent:
They won their first match against the Ivory Coast side on 13 April 2014, by the huge margin of 340 points to 10. There was a very hostile atmosphere towards Norway amongst spectators in the crowd, some of whom had been injured by the rampaging Selma the previous day.
A huge upset took place on 6 June 2014, when the Bulgarian National Team sent Norway out of the tournament by winning the match by 170 points to Norway's 20, thanks to an early Snitch capture by Viktor Krum. Fans blamed Norway's bad luck on the Selma (Pm).
Commentary
Notes
Although Norway is an historical Quidditch-playing nation, there is nothing on their Wikipedia page for Quidditch or any other wizarding sport (Wikipedia).
Pensieve (Comments)