"Saturday: Ballycastle Bats vs. Caerphilly Catapults, venue to be decided (Muggles camping on Ellis Moor. Contact Dept. of Magical Games and Sports, Ministry of Magic for details)."
-- from the Sport section of the Daily Prophet (DP4)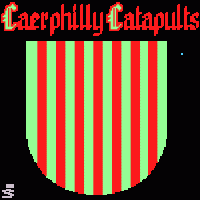 The Caerphilly Catapults are a Welsh Quidditch team, founded in 1402 (QA7). Caerphilly is spelled Caerffili in Welsh.
robes: vertical stripes, light green and scarlet (QA7)
home: Caerphilly, South Wales
The Catapults have had eighteen League wins (QA7). They defeated the Norwegian team Karasjok Kites in the European Cup final 1956 (QA7).
Their most famous player 'Dangerous Dai' Llewellyn was eaten by a Chimaera in Mykonos, Greece. The player who takes the most exciting risks is now awarded the Dangerous Dai Commemorative Medal at the end of each season (QA7). Arthur Weasley's stay in St Mungo's is spent on the Dai Llewellyn Ward, which is located on the First Floor and specialises in treating dangerous bites and other creature-induced injuries (OP22).
The British record for fastest capture of a Snitch (three and a half seconds) was during a game against the Tutshill Tornados in 1921. Unfortunately this result was achieved against the Caerphilly Catapults (QA7).
As reported in the Daily Prophet, the Catapults were held to a draw by the Chudley Cannons, a shock result to both sides (DP2).
They then lost to the Montrose Magpies after the Magpies had fired their Muggle-obsessed Chaser Alasdair Maddock (DP3) (the Catapults having won the previous season's fixture when Maddock had tried to "dribble" a quaffle) (DP1).
A subsequent match against the Ballycastle Bats was postponed due to Muggles camping on the moor near the venue (DP4).
Commentary
Notes
Caerphilly, a town in South Wales, lists a rugby football club but no Quidditch team appears in its Wikipedia entry (Wikipedia).
Although the dates printed on the Daily Prophet Newsletters are:
the timeframe for these events is 1992-1993.
Pensieve (Comments)
Tags: competitions/competitors dangerous defeat flying green loss match red scarlet tactics teams victories win