Ministry of Magic representatives apprehended them as they were flying over Inverness and the Banchory Bangers never played again.
-- Quidditch Through the Ages (QA5)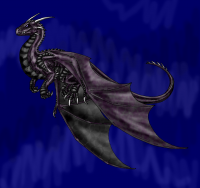 After a match against the Appleby Arrows in 1814, the Bangers attempted to capture a Hebridean Black dragon as their team mascot. Their foolishness led to their being banned from playing ever again (QA5).
Banchory Bangers Quidditch team is banned
Certainty
Stated in canon
Type of Event
Wizarding world
Commentary
Notes
Related images:
The Banchory Bangers were known for their "post-match parties" (QA5). This one getting so out of hand must have been the last straw for Ministry authorities.
Lexicon list of Quidditch teams
From the Web
Harry Potter Wiki: Banchory Bangers
WizardingWorld (Pottermore) features:
Pensieve (Comments)
Tags: banished chase dangerous foolishness illegal mascots Quidditch history rule-breaking