"Yes, those who progress in using magic without shouting incantations gain an element of surprise in their spell-casting. Not all wizards can do this, of course; it is a question of concentration and mind power which some ...lack."
-- Severus Snape in DADA Class, 6th Year (HBP9)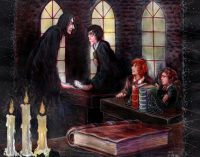 Spells performed without saying the incantations out loud.
References from the canon
non-verbal spells
Alternate Spelling
nonverbal spells
Commentary