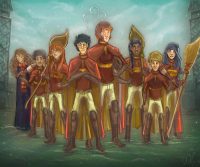 Demelza Robins was a quality Chaser for the Gryffindor Quidditch Team that won the House Cup in 1996-1997 (HBP24).
Skills
"particularly good at dodging Bludgers."
Demelza Robins
School
Hogwarts - Gryffindor Hogwarts - Student
Profession
student, chaser
Commentary
Etymology
Demelza is a hamlet in the Parish of St Wenn. Winston Graham named his character Demelza Carne after the hamlet in his "Poldark" book series. In doing so, he popularized the name for girls in Cornwall.
Demelza could also refer to
Demelza House, the favourite charity of actor Daniel Radcliffe.
Notes
"Discover Poldark: The real places behind the names"
https://www.visitcornwall.com/poldark/blog/real-places-behind-names
Pensieve (Comments)