"Puddlemere United .... won a decisive 250-150 victory over Wigtown Wanderers on Saturday night."
-- match report in the Daily Prophet (DP2)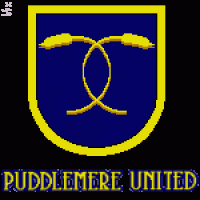 Wilda wallops the Wigs is a Quidditch article appearing in the Sports section of the Daily Prophet, about their robe colour change and new signing as Chaser (DP2).
The scoring by Puddlemere United's new Chaser Wilda Griffiths won their match against Wigtown Wanderers. She had recently been poached from the Holyhead Harpies team.
Philbert Deverill, whose team were wearing their new blue robes, commended Griffiths for ignoring the death threats that were made by Harpies' captain Gwenog Jones (DP2).
Commentary
Notes
Gwenog Jones has a quite an extensive track record for threats and violence, so Wilda Griffiths really is being quite brave to ignore these. It could all blow up when the two teams play against each other.
Kingfisher blue (DP2) and navy-blue (QA7) are very different shades, but at least the agreed colour of the robes is blue.
Although the date printed on the first Daily Prophet Newsletter (DP1) is 31 July 1998, the timeframe for this event is 1992-1993.
Pensieve (Comments)
Tags: blue death threats goals Gwenog Jones remembrall match money success talented victories win