"It is nonsense to say that Gwenog [Jones] wanted the Holyhead fans to riot. Yes, maybe she did say that Wilda [Griffiths] deserved to be gnawed to death by starving tarantulas, but that was a light-hearted remark."
-- a Holyhead Harpies representative (DP4)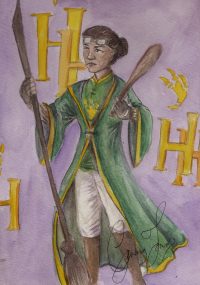 Article in the Sports section of the Daily Prophet reporting the events of the Puddlemere United v Holyhead Harpies grudge match (DP4).
Ministry fears of violence at the match between traditional rivals Holyhead Harpies and Puddlemere United were realised when former Harpy, Chaser Wilda Griffiths, disappeared midway during the match. Many Puddlemere and Holyhead supporters had handed in "dummy" wands at the gates and used their real wands during the ensuing riot. Holyhead team captain Gwenog Jones is said to be "helping the Ministry with its enquiries" (DP4).
Commentary
Notes
If someone is "helping the police with their enquiries" it is taken to mean they are being held in custody while the police gather enough evidence to press charges....
While the date printed on DP4 is 1 October 1999, the timeframe for these events is 1992-1993.
Pensieve (Comments)
Tags: arrest betrayal chaos confusion disappear fans fight Gwenog Jones remembrall match revenge riot rivalry score trouble vanish/vanishing violence