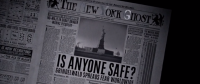 Is Anyone Safe? is a headline from the magical newspaper The New York Ghost in 1926, referring to the dangerous criminal Gellert Grindelwald being on the loose in Europe (WFT).
Commentary
Notes
In the film, the sub-headline of Grindelwald Spreads Fear Worldwide appears below the main headline.
The headline Is Anyone Safe? is included in the printed and electronic US versions of the screenplay, but is missing from the printed and electronic UK versions.
Pensieve (Comments)