"I am sorry to hear that you do not feel we give enough coverage to the game of Gobstones. The reason for this is that most wizards find it deeply boring."
-- Editor's reply to a letter in the Daily Prophet (DP1)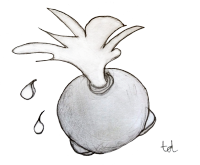 These objects – playing pieces for the game of the same name – spit a disgusting fluid at players when they lose.
Notes and interesting facts:
Commentary
Notes
Although the date printed on the Daily Prophet Newsletter DP1 is 31 July 1998 and DP2: 8 February 1999, the timeframe for those events is 1992-1993.
Pensieve (Comments)
Tags: club competitions/competitors disgusting games gold liquids metals smelly/smells stones wizard games