"That they scored only ten goals is testimony to Paraison's agility and courage."
-- Ginny Weasley's report on the Daily Prophet, 15 May 2014 (Pm)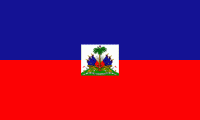 Lenelle Paraison was a Quidditch player, who Keeper for the Haiti National Team at the 2014 Quidditch World Cup.
Paraison was one of only three female Keepers at the 2014 Quidditch World Cup tournament. She is a formidable Keeper, blocking two-thirds of Brazil's attempted goals in the Round of 16 match despite getting her nose broken twice (Pm).
Other canon notes and references
Since Viktor Krum, born 1976, was the oldest player at the tournament (Pm), Paraison must have been born after 1976.
Lenelle Paraison
Profession
Quidditch player (Keeper)
Commentary
Etymology
The name Lenelle is shared with the famous Haitian poet and playwright, Lenelle Moïse.
Paraison is a French glassblowing term meaning "gob, blob" (Linguee).
Pensieve (Comments)
Tags: athletes competitions/competitors injuries international match save/saving/saved skills sports teammates teams tournaments women