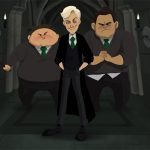 Who Can Take Away Points?
•
The continuity editors of the Potter books surely earned their wages – other than things like math and dates, there are remarkably few inconsistencies in the Potter series.  But there is a small one in Order of the Phoenix that proved to be… Read More
Marauder Era Ships: Which Ones Sailed?
•
As the last Harry Potter book draws ever nearer, we are all scrambling to organize and finalize theories. So, anyone who's an HP fan must have heard of several ships[*] from the Marauder's Era. I'll refer to them as m-ships in this essay to make life easier. These m-ships basically put together two of the… Read More