"He came out of the room about an hour after we started keeping watch. He was on his own, clutching that awful shriveled arm ... he must have been checking whether the coast was clear to let the Death Eaters out, because the moment he saw us he threw something into the air and it all went pitch-black -"
-- Ginny Weasley, after the battle (HBP29)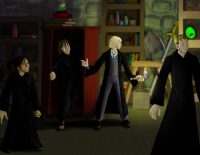 He has spent most of the school year trying to repair the cabinet in the Room of Requirement, a cabinet which had trapped Montague for several weeks during the 1992-1993 school year. The companion cabinet was located in Borgin and Burkes, and it was through there that the Death Eaters traveled magically to Hogwarts. They left the Room of Requirement under cover of Peruvian Darkness Powder and hastened to the Astronomy Tower, where they engaged the Order of the Phoenix and a group from Dumbledore's Army in battle.
Draco brings Death Eaters into Hogwarts though a Vanishing Cabinet
Certainty
Stated in canon
Type of Event
Wizarding world
Commentary
Tags: attacks repair sneak sneaking/sneak