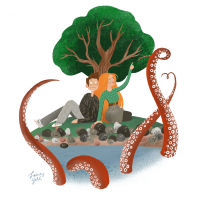 The largest invertebrate known to Muggle science, the giant squid can grow to 70 feet in length. While the giant squid is a deep salt water creature, at least one giant squid lives in the freshwater lake near Hogwarts castle, and seems to be more or less friendly toward the inhabitants.
The giant squid at Hogwarts:
Commentary
Notes
Giant squids are not magical creatures. Curious, isn't it, that Rowling chose to put this particular non-magical creature at Hogwarts, of all places.
Pensieve (Comments)