"He's tethered in me pumpkin patch. Thought he oughta see the trees an' - an' smell fresh air - before - "
--Rubeus Hagrid while awaiting Buckbeak's executioner (PA16)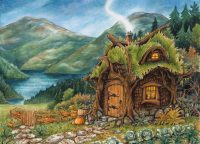 A small pumpkin patch is located behind Hagrid's hut and enclosed by a fence. Hagrid grows magically large pumpkins in his pumpkin patch (CS7, PA21). Harry sees twelve enormous pumpkins there during his second year (CS7).
Commentary
Notes
Related images:
There is some conflation between the pumpkin patch and the vegetable patch, which are both behind Hagrid's hut. CS7 says the pumpkins are "in the small vegetable patch."
Pensieve (Comments)