"He's tethered in me pumpkin patch. Thought he oughta see the trees an' - an' smell fresh air - before - "
--Rubeus Hagrid while awaiting Buckbeak's executioner (PA16)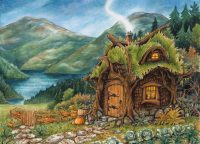 A small pumpkin patch behind Hagrid's hut and enclosed by a fence (CS7, PA21).
Harry sees twelve enormous pumpkins there during his second year (CS7).
Commentary
Notes
There is some conflation between the pumpkin patch and the vegetable patch, which are both behind Hagrid's hut. CS7 says the pumpkins are "in the small vegetable patch."
Pensieve (Comments)