"How's yer brother Charlie? I liked him a lot -- great with animals."
-- Rubeus Hagrid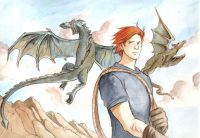 Charlie Weasley is Ron's second oldest brother who works with dragons in Romania. Charlie is an "outdoor type" who has spent his whole adult life working with dragons in Romania (CS4, CS14). The second-oldest son of Arthur andMolly Weasley, Charlie is stocky and very freckly (GF4), and he has red hair that he lets grow longer than his mother would like (DH6). He is a member of the Order of the Phoenix despite living in Romania; he primarily helps by working to recruit foreign members (OP4). He did make it to London in time to join the Battle of Hogwarts (DH36).
When he was at Hogwarts, Charlie was an excellent Seeker for the Gryffindor Quidditch team, and led his team to the Quidditch Cup; Oliver Wood claims he could have played for England if he hadn't left to work with dragons instead (PS9), probably leaving Hogwarts in the middle of his sixth year to study dragons abroad.
Charlie is easygoing and popular; he was a favorite of Hagrid's (GF19) and served as the best man at Bill and Fleur's wedding (DH6).
Family
Mother: Molly (Prewett) Weasley.
Father: Arthur Weasley.
Maternal grandparents: Molly and Sirius are "cousins by marriage," (OP6) so Molly's parents are probably related in some way to the Prewetts listed on the Black Family Tree (BFT).
Paternal grandparents: Septimus and Cedrella Weasley (BFT).
Aunts & Uncles:
Weasley: Arthur had 2 brothers, but we don't know their names (JKR). According to Jo, Ginny is the first female to be born into the Weasley family in generations, so we can deduce that Arthur had no sisters (JKR).
Prewett: Molly's brothers Gideon and Fabian Prewett (OP9).
Surname unknown:
Cousins: Mafalda, a cousin who never made it into the books (
JKR) and her father the Muggle accountant (PS6).
Siblings: Bill, Percy, Fred, George, Ron, and Ginny.
Grandparents: Grandfather who originally owned Ron's "old and battered" wizard chess set (PS12). This grandfather could be either grandfather Prewett (Ignatius? BFT) or grandfather Weasley (Septimus? BFT).
Location of childhood home: 'The Burrow,' near Ottery St. Catchpole, Devon.
Spouse: None (YL).
Skills
Excellent Seeker for the Gryffindor Quidditch team ("could have played for England")
Charlie Weasley
Distinguishing Features
Stocky and freckly.
School
Hogwarts - Gryffindor
Profession
Works with dragons in Romania
Commentary
Notes
Charlie's birth year is often assumed by fans to be 1972 because of generalized statements by Rowling in answer to interview questions. However, careful analysis of all canon information indicates that it is actually 1973 and that Charlie left Hogwarts part way through his sixth year. The complete discussion can be found here.
Pensieve (Comments)
Tags: freckles inconsistencies studying