"Won it," said Hagrid. "Las' night. I was down in the village havin' a few drinks an' got into a game o' cards with a stranger. Think he was quite glad ter get rid of it, ter be honest."
Hagrid- Harry Potter PS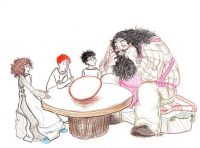 While have a few drinks and playing a card game in Hogsmeade Village with a stranger, he won the dragon egg off the stranger after a winning round.
Hagrid wins a dragon egg in a card game
Certainty
Inferred from canon
Type of Event
Wizarding world
Commentary