"Bless him, look, he knows his mummy!"
-Rubeus Hagrid, having been nearly bitten by his new pet (PS14)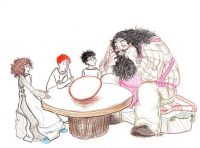 Harry, Ron, and Hermione arrive just in time to see the baby Norwegian Ridgeback emerge from its egg. The baby dragon sneezes some sparks and almost bites Hagrid (who is delighted). Then everyone realises that Draco Malfoy has witnessed the event through a window. (PS14)
Timeline Notes
All we really know is that it is a few weeks before exams and that the weather gave the first hint of summer coming.
The first signs of hatching must have begun by breakfasttime, since it was then that Harry, Ron, and Hermione received a note from Hagrid informing them of it. They go to his hut right after their morning Herbology class.
Norbert hatches
Type of Event
Wizarding world
Commentary
Notes
We don't know what happens immediately after Malfoy is seen running back towards the castle, but most likely Hagrid followed what he learned from Dragon Breeding for Pleasure and Profit a few days earlier: "when it hatches, feed it on a bucket o' brandy mixed with chicken blood every half hour." (PS14) -BB
At this point, the baby dragon hasn't been named. Hagrid will soon begin to call it Norbert (PS14). However, we learn in DH7 that it is actually a female dragon, and is now being called Norberta. -BB
As Hermione had pointed out a few days before, Hagrid's home - now to be shared by a creature that breathes fire - is made of wood. (PS14)
Though short, this scene is a good example of Hagrid's parental - indeed, stereotypically maternal - nature. Hagrid only sees good in the little monster. Harry thinks the baby dragon is ugly, but Hagrid calls it "beautiful". Then, when the dragon snaps at Hagrid for trying to touch it, Hagrid identifies the behavior as the dragon recognizing him as its mother. -BB
Pensieve (Comments)