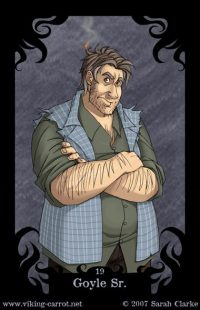 Goyle Sr. was Death Eater who was present at Voldemort's rebirth (GF33). He is the father of Gregory Goyle, a Slytherin student in Harry's year.
Family
Father of Gregory Goyle.
Goyle Sr.
Distinguishing Features
clumsiness (GF33)
Commentary
Etymology
Goyle = from "gargoyle" stone demons carved into the exterior of Gothic buildings as rain spouts.
Pensieve (Comments)
Tags: fathers