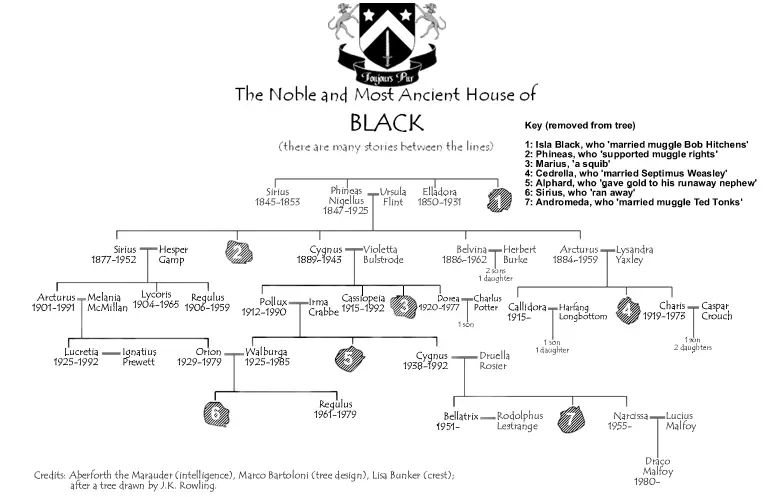 "The Noble and Most Ancient House of BLACK," a hand-drawn tree that Rowling donated to Book Aid International in January of 2006 and auctioned February 22, 2006.
The Lexicon's image was made in 2006, based off of two partial pictures, and a description by Aberforth the Marauder, (which was based on observation of the original during the auction.)
The original image has since been published in Harry Potter Film Wizardry and can be seen here.
Interesting facts and notes
If our dates are correct (and we're reasonably sure they are), the Black family had unusually short lifespans for wizards.
Kreacher says that it has been in the Black family for seven centuries (OP6), so the portion that JKR drew is just a part of the whole.
Sirius sees Araminta Melliflua on the tapestry, but she is not listed in the one Jo drew.
Probably the most unusual fact found on chart is that Cygnus Black was only 13 years old when his oldest daughter, Bellatrix, was born (and only 15 when Andromeda was born and 17 when Narcissa was born). Not to be too judgmental, but one could easily guess that theirs was not a solid, mature family unit, which could account for how badly Bellatrix, and to some extent Narcissa) turned out.
Characters Introduced
Abbreviation
BFT: The Black Family Tree
Canonicity
Secondary Canon
Commentary