"I used to be there ... My sweet old mother blasted me off after I ran away from home ... When I was about sixteen. I'd had enough."
-- Sirius Black, indicating a burn hole on the Black Family Tree tapestry (OP6)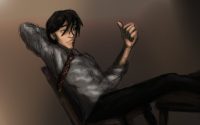 He subsequently goes to live with James Potter and his parents, who treat Sirius as a second son. The Black family disowns Sirius and removes him from the family tree.
Timeline Notes
Sirius says in OP6 that ran away from home when he was about sixteen. Since he was born in 1959, he ran away circa 1975.
Sirius Black runs away from home
Certainty
Inferred from canon
Type of Event
Wizarding world
Commentary