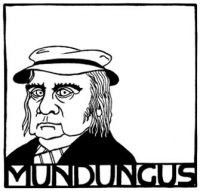 Mundungus Fletcher gets into some kind of trouble at the Hog's Head and is subsequently banished from the establishment (OP16).
Mundungus Fletcher is banned from the Hog's Head
Type of Event
Wizarding world
Commentary
Notes
In the 1970s Mundungus was thrown out of the Hog's Head Pub, so when he was assigned to keep an eye on Harry 20 years later, he was forced to hang around that pub dressed as a witch (OP16). Fortunately, keeping one's face hidden is a bit of a fashion in the Hog's Head.
Dung may have other Hog's Head connections: the day Harry caught Dung with peddling Black family heirlooms, he was seen speaking with Aberforth, the Hog's Head barman (HBP12).
Pensieve (Comments)