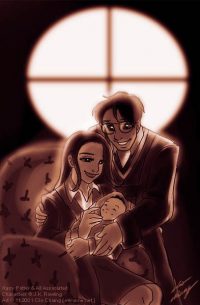 Harry James Potter was born to James Potter and Lily Evans Potter. His birth appeared to fulfill a prophecy given months before by Sybill Trelawney. This prophecy would be the impetus for many events, including the death of James and Lily 18 months later. Sadly, James' parents, Fleamont and Euphemia Potter, died before they had a chance to meet their only grandchild (Pm).
Harry Potter is born
Type of Event
Wizarding world
Commentary
Notes
For many years, fans debated the year of Harry's birth. The day and date were well known, since they are given in the first book. It wasn't until the publication of the Black Family Tree that the year was semi-officially settled, since Draco's birth was listed there as 1980. Some fans were hesitant to accept that as canon since it hadn't appeared in one of the books. Then in Deathly Hallows, the dates on the Potters' gravestone put the matter to rest for good.
Pensieve (Comments)