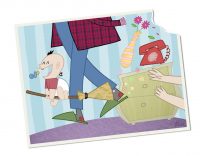 The toy broomstick is a gift from Sirius. Lily Potter wrote a letter to Sirius, in part to thank him for the present:
Dear Padfoot, Thank you, thank you, for Harry's birthday present! It was his favorite by far. One year old and already zooming along on a toy broomstick, he looked so pleased with himself. I'm enclosing a picture so you can see. You know it only rises about two feet off the ground but he nearly killed the cat and he smashed a horrible vase Petunia sent me for Christmas (no complaints there). Of course James thought it was so funny, says he's going to be a great Quidditch player, but we've had to pack away all the ornaments and make sure we don't take our eyes off him when he gets going… (DH10)
Years later, in 1997, Harry found the letter in Sirius' old bedroom in Grimmauld Place.
Harry receives a toy broomstick for his first birthday
Certainty
Inferred from canon
Type of Event
Wizarding world
Commentary