"Today's your birthday. How come you haven't got any cards? Haven't you even got friends at the freak place?"
-- a sneering Dudley Dursley (CS1)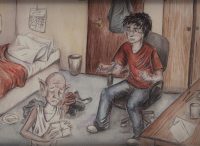 This is the worst birthday that Harry can remember. The Dursleys have completely forgotten that today is Harry's birthday, and he ends up having to spend it doing chores in preparation for a very important dinner party hosting one of Uncle Vernon's clients, Mr. Mason, and his wife, Mrs. Mason.
Harry is about to spend the whole night pretending he doesn't exist when he meets Dobby the house-elf. Dobby has come with a warning:  Harry will be in mortal danger if he returns to Hogwarts. Dobby asks that Harry not return to Hogwarts, and when Harry refuses to promise not to return to school Dobby uses a hover charm to drop Aunt Petunia's pudding in the kitchen causing alarm to the dinner guests.
To make matters worse an owl drops a letter from Mafalda Hopkirk of the Improper Use of Magic Office at the Ministry of Magic on top of Mrs. Mason's head. Mrs. Mason is mortally afraid of birds which causes the Mason's to leave, and Uncle Vernon, now aware that Harry can't use magic to escape for fear of being expelled, locks Harry up in his bedroom for the foreseeable future as punishment.
Harry's 12th birthday
Certainty
Stated in canon
Type of Event
Wizarding world
Commentary
Tags: anger birthdays letters owls protection pudding warnings