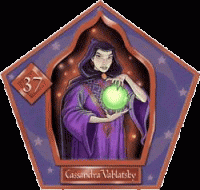 Cassandra Vablatsky was a celebrated Seer and the author of Unfogging the Future (PA4).
Skills
Prophecy
Commentary
Etymology
"Cassandra" = (mythology) daughter of Priam and Hecuba, given the power of prophecy by Apollo, but when she spurned him, he added the curse that her prophecies should not be believed.
Note that Professor Trelawney's great-great-grandmother shares this given name (OP37).
"Vablatsky" = comes from Madam Helena Blavatsky, 1831 - 1891, who brought Eastern philosophical ideas to the West, founded the Theosophy movement.
Pensieve (Comments)
Tags: authors fortunetelling future seer writers