"I was more worried about her being eaten by a bookcase! Find. Something. Anything..."
-- Albus Potter (CC1.19)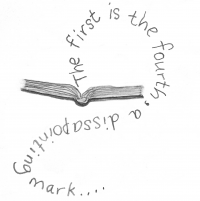 Having seen off Hermione Granger, Albus Potter, Scorpius Malfoy and Delphi approach the Minister's bookshelves to look for the Experimental Time-Turner.
The bookshelves, which are full of dangerous books, are a "Weaponised Library" and fight back. Scorpius, Albus and Delphi have to solve the Time-Turner Book Riddles to be able to rescue themselves and find the hidden Time-Turner (CC1.19).
Timeline Notes
This is the day after Albus and Scorpius escape from the Hogwarts Express and visit the St Oswald's Home - so during 2 September 2020.
Albus Potter, Scorpius Malfoy and Delphi battle with the Weaponised Library
Certainty
Inferred from canon
Type of Event
Wizarding world
Commentary
Notes
It is interesting that being captured and taken into the Weaponised Library causes the Polyjuice Potion to wear off.
Pensieve (Comments)
Tags: attacks books dangerous knowledge pressure riddles tests time weapon