"....you would be required to undergo a stringent series of character and aptitude tests at the Auror office. It's a difficult career path, Potter, they only take the best."
-- Professor McGonagall to Harry Potter (OP29)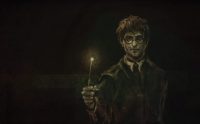 By the time that the Hogwarts Express is leaving King's Cross for the start of his son Albus's fourth year, Harry Potter has become the head of the Department of Magical Law Enforcement (CC1.5).
This would be a promotion to the post from within the Ministry, as he had joined the department as an Auror after the Battle of Hogwarts victory over Lord Voldemort (Pm).
Timeline Notes
This event occurs in the main "through" timeline of Harry Potter and the Cursed Child. Use of a Time-Turner by Albus Potter and Scorpius Malfoy cancels this event in an alternate timeline.
The exact date is unknown, but it will have occurred prior to Summer 2020.
Harry Potter heads the Department of Magical Law Enforcement
Certainty
Inferred from canon
Type of Event
Wizarding world
Commentary
Tags: ambition Auror remembrall defence defense enforcement government leadership Ministry staff