"Harry, you have one of the greatest hearts of any wizard who ever lived, and I do not believe your heart told you to do this."
-- Ginny Weasley (CC2.13)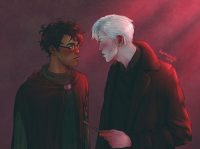 Ginny and Harry Potter disagree on how Harry is dealing with his fears over their son Albus (CC2.13).
Draco Malfoy comes to their home and demands to know why Harry is keeping Scorpius and Albus apart. Harry questions Scorpius's parentage. They fight a duel.
Ginny returns to the room to find the kitchen in chaos (CC2.13).
Timeline Notes
Probably around the same time or a few days later than previous event, September 2020
Draco Malfoy and Harry Potter fight a duel
Certainty
Reasonable guess
Type of Event
Wizarding world
Commentary
Notes
This event takes place during the Roseless timeline, as described in the essay "Albus Potter and the lesson in Quantum Mechanics" by Nick Moline.
While the bare description of this duel sounds quite serious, it is actually quite a funny scene, with both Draco and Harry trying to one-up each other with successive spells:
"That really the best you got? ....Oh, this is too much fun…"
-- Draco Malfoy (CC2.13)
Pensieve (Comments)