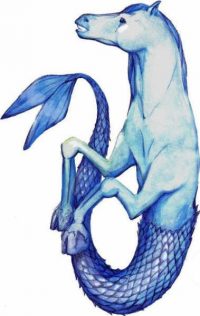 The hippocampus is a mer-horse, with the head and forequarters of a horse and the hindquarters and tail of a giant fish.
The hippocampus lays large, semi-transparent eggs which hatch into tadfoals.
Commentary
Etymology
From the Greek hippos (horse) and kampos (sea monster)
Notes
Hippocampus is also the scientific name for the species of fish known as seahorses.
Pensieve (Comments)
Tags: fish mythology ocean sea underwater