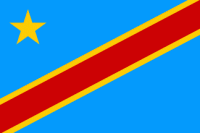 Until 1997, the name for the country of the Democratic Republic of the Congo. Tebos are native to this region (FB).
Commentary
Notes
The books report the following:
The Tebo is an ash-coloured warthog found in Congo and Zaire.
The book was written in 2001, by which time the country of Zaire was no longer known by that name. The reference to Congo likely refers to the Republic of the Congo, a country to the northwest of the country previously known as Zaire.
Pensieve (Comments)
Tags: names