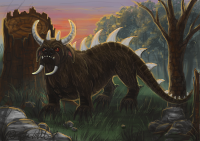 The Hodag is a predatory North American magical creature with fangs, horns, glowing red eyes, and the head of a frog (Pm). Described as being roughly the size of a large canine, the Hodag's primary prey is the Mooncalf (Pm). Their attraction to No-Maj farms as a result has led to MACUSA's Department of No-Maj Misinformation division working extra-hard to convince the non-magical community that any sightings are hoaxes (Pm), although as of 2017, they appear to have been successfully relegated to a specially-created reservation in the Wisconsin area.
In the 1620s Isolt Sayre and William the Pukwudgie take trips to see the Hodags hunt (Pm).
Commentary
Notes
The Hodag is a folkloric beast that supposedly inhabits northern Wisconsin (source: Wikipedia).
"Hodag" is a new entry in the 2017 edition of FB (Pm).
Pensieve (Comments)
Tags: predators