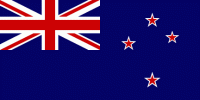 Famous for its beautiful rolling hillsides as well as its enormous population of sheep, New Zealand is an island group located in the southern Pacific Ocean and, along with Australia, part of the Antipodes. The Antipodean Opaleye dragon is native to New Zealand (FB).
Quidditch is also popular here, thanks to a seventeenth-century visit by English wizards, who came to study magical plants but played the sport in their free time. Today's New Zealand Quidditch teams, including the Moutohora Macaws, play in the Australian Quidditch League (QA8).
Moutohora and Wellington are also located in New Zealand.
Commentary
Pensieve (Comments)