"-- a manticore savaged someone in 1296, and they let the manticore off -- oh -- no, that was only because everyone was too scared to go near it."
-- Hermione reading to Hagrid (PA11)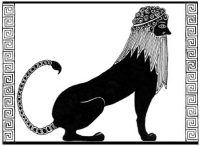 The Manticore is a beast with a human-like head, a lion's body, and the tail of a scorpion.
The tail secretes a venom that is instantly fatal to a victim of its sting. A manticore's skin repels virtually all known charms, so it is extremely difficult to subdue by magic (FB).
It is a sentient creature, capable of intelligent speech but not classified as a being due to its violent tendencies (FB).
In 1296, a manticore seriously wounded someone but was let off because no one dared go near it (PA11).
Norvel Twonk, in 1957, died saving a Muggle child from a manticore (FW).
Hagrid bred the Blast-Ended Skrewt from a manticore and a fire-crab (GF24); we do not know how he persuaded the manticore to cooperate. Manticores originated in Greece (FB).
Commentary
Etymology
From Latin manticora, Greek mantikhoras, perhaps originally from Iranian compound *mar-tiya-khvara "man-eater."
Notes
Although this is never stated, it seems possible that like the acromantula, manticores may have originated as a wizard-bred species specifically created to guard treasures, strongholds, and the like, and thus serving as an example of why the Ban on Experimental Breeding is so important.
Pensieve (Comments)