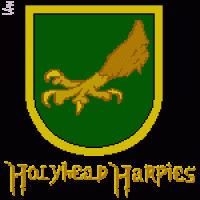 A Harpy is a female monster in the form of a bird with a human face.
The Holyhead Harpies take their name from this creature (QA7).
The Veela who appeared at the 1994 Quidditch World Cup were described by Rita Skeeter as "harpy-like" (Pm).
Commentary
Etymology
From Latin harpyia, from Greek Harpyia (plural), meaning "snatchers," implying greedy impulses of the ancient Harpies, who were sometimes associated with revenge by the gods.
Notes
One might guess that in the Potter universe, harpies aren't actually mythological at all.
Pensieve (Comments)