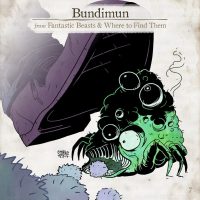 Found worldwide, the Bundimun looks like a greenish fungus with eyes.
Bundimun  secretion, in diluted form, is used in some magical cleaning solutions (FB).
An infestation of Bundimuns can destroy a house, as their secretions rot away the foundations. A scouring charm will get rid of most minor infestations. Severe infestations require intervention from the Department for the Regulation and Control of Magical Creatures (FB).
"Bundimun" is a multiple choice answer on the Grade 1 WOMBAT test, on JK Rowling's original website. (http://www.hp-lexicon.org/wizworld/wombat.html)
Commentary
Pensieve (Comments)