When I was a youngster, there was no basic spell book to give a beginner witch like myself the clear and simple instructions that would have made magic a much less mysterious process. I struggled to understand the complicated instruction in the old-fashioned text books I was given at school ... When I grew up, I quickly realized that the help I had craved simply did not exist – and so I created the book you're holding now: The Book of Spells. -- Miranda Goshawk, forward to The Book of Spells
...(T)he closest a Muggle can come to a real spellbook. I've loved working with Sony's creative team to bring my spells, and some of the history behind them, to life. -- J.K. Rowling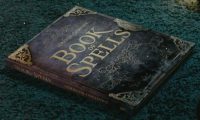 The Book of Spells is an augmented reality video game product which can only be played on the PlayStation using the Move Controllers. The material for the game was written by Rowling (which makes the content canon).
The Book of Spells is a 200-year-old primer used in magic schools around the world to teach students the basics of spellwork. The book was written by Miranda Goshawk. It is now kept in the Restricted Section of the Hogwarts library.
The book has been translated into seventy-two languages, including Gobbledegook and Mermish. The spells covered in the book include:
Levitation Charm (Wingardium Leviosa)
Water-Making Spell (Aguamenti)
Unlocking Charm (Alohomora)
Wand-Lighting Charm (Lumos)
Fire-Making Spell (Incendio)
Bird-Conjuring Charm (Avis)
Revealing Charm (Aparecium)
Engorgement and Shrinking Charms (Engorgio and Reducio)
Gouging Spell (Defodio)
Mending Charm (Reparo)
Scouring Charm (Scurgify)
Shield Charm (Protego)
Summoning Charm (Accio)
Severing Charm (Diffindo)
Impediment Jinx (Impedimenta)
Hardening Charm (Duro)
Bubble-Head Charm
Doubling Charm (Gemino Curse)
Disarming Charm (Expelliarmus)
Reductor Curse (Reducto)
Stunning Spell (Stupefy)
Patronus Charm (Expecto Patronum)
Calendar and Dates
The book is described as a " 200-year-old primer," which means that it was created around 1800.
Interesting facts and notes
Inconsistencies:
The Book of Spells does not appear to be the same book as The Standard Book of Spells series of books required of Hogwarts students, although the two may be related (the Standard Book of Spells found on Pottermore has a similar but not identical set of spells in it, plus the Standard Book of Spells is certainly not kept in the Restricted Section, since every student is required to purchase a copy every year).
The author Miranda Goshawk is listed on the Famous Wizard cards as having been born in 1921, which doesn't match with the date given for the original creation of The Book of Spells ("two-hundred years old"). How do we rectify these discrepancies? Perhaps the original Miranda Goshawk lived two-hundred years ago and wrote The Book of Spells, while her descendant, also named Miranda Goshawk and born in 1921, revised, expanded, and updated the venerable book into a book series with one volume for each year of a student's education.
Since these spells require a wand to perform, it seems unlikely that the book would be translated into the languages of magical being who are forbidden to carry a wand (Gobbledegook is the language of Goblins while Mermish is the language of the Merpeople).
Exceptional character moments
Bridget Wenlock, Orabella Nuttley, Torquil MacTavish, Silvio Astolfi, Earl of Paunchley, Edmund Gaddlegate, Hannah Cockleford, Gideon Flatworthy, Delfina Crimp, Snickerton (Muggle tailor), Helixa and Syna Hyslop, Elizabeth Smudgling, Illyius, Eliana, Raczidian, Isadora Rose, Distractible Douglas, Angus McMangus, Morgan, Quintus Harcourt Ballyfumble Stranger
Memorable lines
When I was a youngster, there was no basic spell book to give a beginner witch like myself the clear and simple instructions that would have made magic a much less mysterious process. I struggled to understand the complicated instruction in the old-fashioned text books I was given at school ... When I grew up, I quickly realized that the help I had craved simply did not exist – and so I created the book you're holding now: The Book of Spells. -- Miranda Goshawk, forward to The Book of Spells
...(T)he closest a Muggle can come to a real spellbook. I've loved working with Sony's creative team to bring my spells, and some of the history behind them, to life. -- J.K. Rowling
Characters Introduced
Author
Miranda Goshawk (J.K. Rowling)
Abbreviation
BoS: Book of Spells
Canonicity
Secondary Canon
Commentary
Tags: inconsistencies textbooks