"Oh, hello, Harry ... I was just practicing."
-- Hermione conjuring small golden birds just before sending them to attack Ron (HBP14)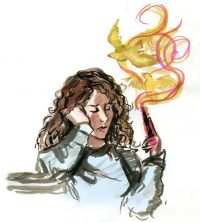 The Bird-Conjuring Charm produces a flock of small, twittering birds.
References from the canon
Mr. Ollivander used this spell to test Viktor Krum's wand during the Weighing of the Wands, sending the birds out the window (GF18). "The hornbeam wand let off a blast hike a gun, and a number of small, twittering birds flew out of the end and through the open window into the watery sunlight."
Probably the same as the spell Hermione uses to create a flock of birds that attacked Ron, although the birds in that case are sent to attack with Oppugno and hit him "like a hail of fat golden bullets" (HBP14).
Commentary
Tags: conjuring inconsistencies