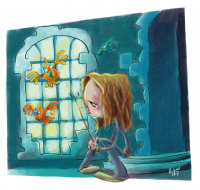 Oppugno is an incantation which causes conjured creatures under the control of the caster to attack the target.
References from the canon
Hermione used this to set a flock of conjured canaries on Ron Weasley (HBP14).
Performed after the Bird-Conjuring Charm on Wonderbook of Spells, where the incantation is called a jinx.
Oppugno
Spellbook
Book of Spells - Chapter Two
Commentary
Etymology
"oppugno" L. to attack, assault
Pensieve (Comments)