"Prior to Levina's discovery, all manner of magical lanterns, candles and light-creation spells had been used with varying degrees of success, to penetrate darkness both natural and curse-related."
-- from The Book of Spells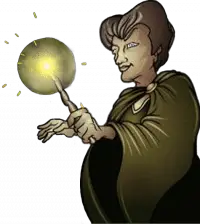 Monkstanley, who worked in the Department of Mysteries, invented the Wand-Lighting Charm purely to assist in finding things like dropped quills behind her desk. Her casual use of the charm at work came as a complete surprise to her co-workers (BoS).
Levina Monkstanley invents the Wand-Lighting Charm
Certainty
Stated in canon
Type of Event
Wizarding world
Commentary