"For a few horrific minutes, it appeared that the assembled crowd had witnessed the greatest breach of the International Statute of Secrecy ever known ... It was then that Orabella Nuttley came quietly forwards and, with a few waves of her wand reconstructed several columns with the use of her own Repairing Charm."
-- Miranda Goshawk, writing in The Book of Spells (BoS)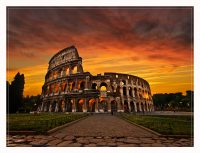 When a broom race between bitter rivals resulted in a huge predawn explosion at the finish line, damaging the Colosseum in Rome, Ministry witch Orabella Nuttley demonstrated a spell she'd created which could repair broken objects. The Ministry officials on the scene quickly learned the spell and quickly repaired the ancient structure before the Muggles arrived on the scene. Nuttley was awarded the Order of Merlin, First Class (BoS).
Mending Charm invented
Type of Event
Wizarding world
Commentary
Tags: damaged desperation repair