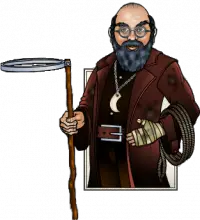 Harvey Ridgebit was a Dragonologist famous for catching a Peruvian Vipertooth and establishing a Romanian dragon sanctuary (JKR). The sanctuary where Charlie Weasley works is likely the dragon sanctuary that Ridgebit founded.
Commentary
Etymology
His name makes it sound like he was destined to be bitten by a Norwegian Ridgeback, perhaps the reason for his bandaged hand?
Notes
JKR's Wizard of the Month for January, 2007.
Pensieve (Comments)