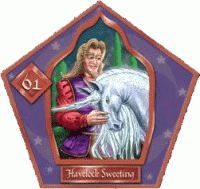 Havelock Sweeting was a unicorn expert (FW).
Havelock Sweeting
Profession
Unicorn expert
Commentary
Etymology
Havelock is similar to "forelock," a term for the top of the mane that sits on the forehead like fringe in a horse or other equine.
Sweeting might be a reference to the saccharine girliness with which unicorns are often associated in popular culture.
Pensieve (Comments)
Tags: experts