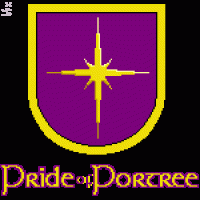 Catriona McCormack was the Captain of and a Chaser for the Quidditch team Pride of Portree in the 1960. She led the team to two league wins during that era. McCormack also played for Scotland thirty-six times.
She has a Quidditch-playing daughter, Meaghan, and a musical son, Kirley Duke (QA7).
Family
Catriona McCormack had a daughter, Meaghan, and a son, Kirley Duke.
Skills
She was a very famous Chaser for the 'Prides'. Her skills and dedication won her the title of Team Captain, as well as a place on the Scotland National Team.
Catriona McCormack
Profession
Professional Quidditch player (Team Captain and Chaser)
Commentary
Etymology
Catriona is the Gaelic form of the name Katherine. It may come from the Greek name ικατερινη (Aikaterine) / 'Εκατερινη (Hekaterine), meaning "each of the two", or from a Coptic name meaning "my consecration of your name". Through Christianity it became associated with the Greek word καθαρος (katharos), meaning "pure" (Behind the Name).
McCormack is a Scottish surname, deriving from the pre-10th century Gaelic personal name Cormac. It has two possible meanings: corb (meaning "raven" or an earlier Celtic word "charioteer") plus mac "son of", therefore "son of the raven" or "son of the charioteer" (Internet Surname Database).
Pensieve (Comments)
Tags: athletes famous gold leaders mothers parents popular purple Quidditch history skills talented teams